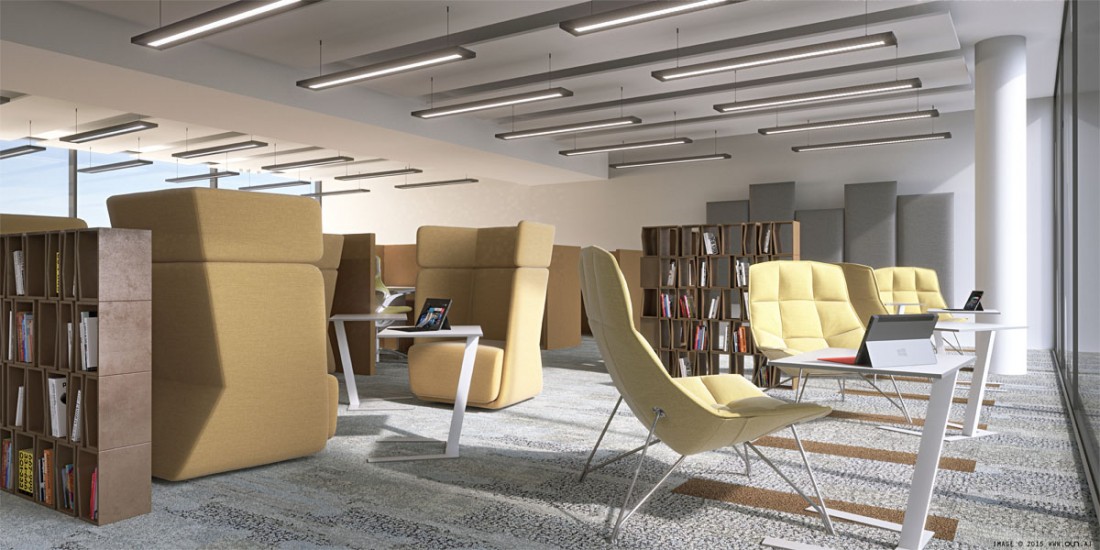 Microsoft's vision of working
Life-sized images of Microsoft's vision "Neue Welt des Arbeitens"
Microsoft is currently building their new headquarters in Parkstadt Schwabing (Munich). They recently celebrated the "Richtfest", organized by Faktor3, marking the completion of the building's roof. To provide their partners and clients a preview of how working here will soon look like we were commissioned to create realistic images in real life scale that offered the visitors a clear vision of the office's future.
"Think", "Share and Discuss", "Converse" and "Accomplish"
are the main columns of Microsoft's new work culture. Our task was to create the illusion of how those areas will look like when its built. So we rendered ultra high resolution images of the different zones to be printed on big canvas frames. The set of renderings depicted the design with its specific details and being positioned in the correct locations within the building visitors had the opportunity to experience the office's future atmosphere.
Responsible for the interior design and spatial planning of the seven floors and 26.000 m² large building were HPP architects. Microsoft's employees spend a lot of their time working from their home office, on business travels or on projects with their clients. Having to be flexible due to the company's and their own needs permanent working desk at the office are no longer required. Therefore the 1.900 employees at Microsoft's new headquarters will find a working environment that adjusts to their needs. In addition to that the building offers numerous meeting rooms, open spaces, spaces to retreat, informal lounges, cafés and sports facilities.