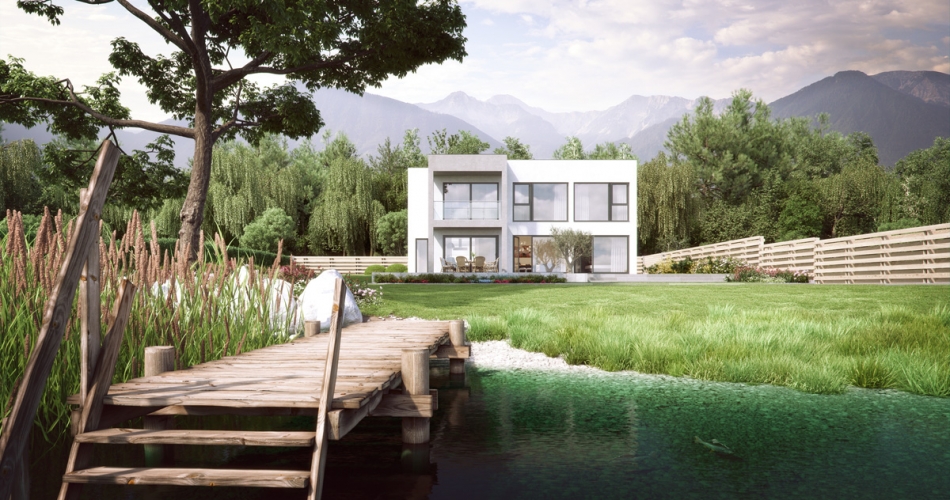 ZENKER's new website relaunch
When Zenker, Austria's leading manufacturer of high-end prefabricated houses, planned the relaunch of their website and a complete update of their brand communication they asked us, not only to create images of their houses, but also to point out the key values of their brand: Individuality, Custom-built and High-Quality.
As each house can be customized by the client, we designed everything from scratch – from exterior to interior. A challenge we gladly accepted.
Here is how we approached it …
Our visuals aim to reflect the individual character and needs of the client. All Zenker houses differ from each other, but in addition to the styles of the houses we added specific storytelling elements to highlight individuality. Elements, like a car, a motorcycle or a simple telescope, indicate the different types and personalities of the house owners. 
In addition, we used various times of the day to create different moods and evoke different emotions. Another way to show the versatility was by using different perspectives and angles. Different settings help to highlight that Zenker houses are custom-built for everyone and for every environment. One scene included a vineyard, while another one showed a lake or even a mountainous landscape.
Zenker stands for premium houses. Every detail had to fit to the aspiration of high quality. No matter if it is a pretty garden, a small terrace or a big living room, we had to make sure our scene fits to the high standards of Zenker.
See the results for yourself …